Definition
Microsoft Cloud Security Readiness Tool (CSRT)
The Microsoft Cloud Security Readiness Tool (CSRT) is a survey that assesses the systems, processes and productivity of an IT environment in preparation for the adoption and secure use of cloud computing services.
According to Microsoft, the CSRT is intended to help organizations determine how the use of cloud computing services might affect existing information technology, regulatory compliance and ultimately the achievement of business goals. The tool uses the Cloud Controls Matrix as a benchmark to evaluate data security and privacy, as well as adherence to controls applicable to key compliance and regulatory standards.
The data entered into the CSRT survey is processed to create a custom report that makes recommendations, summarizes the benefits of cloud computing and plan for adoption. Guidance emphasizing specific security controls is based on a number of established security and compliance frameworks, including the Federal Office for Information Security's Security Recommendations for Cloud Computing Providers, the European Network and Information Security Agency (ENISA), Information Assurance Framework (IAF), the International Organization for Standardization (ISO 27001), Payment Card Industry Data Security Standard (PCI DSS ), HIPAA and NIST.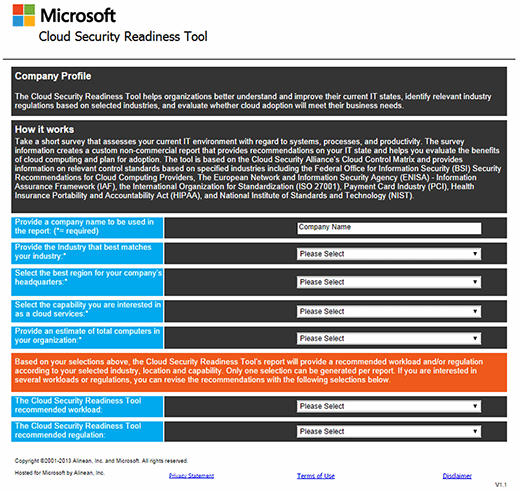 The CSRT is free to anyone. The interactive survey consists of 27 questions that typically take 10-to-15 minutes to complete.
This was last updated in
October 2014
Continue Reading About Microsoft Cloud Security Readiness Tool (CSRT)
Dig Deeper on Cloud Computing Frameworks and Standards